With Jainish, Harshverdhan & Pallav.
A Bi-Weekly Podcast for Curious Minds.
The goal of this podcast series is to stimulate your curiosity. We discuss anything from science to art to technology to novels, movies, philosophy, and even psychology in this series. We've invited several folks who have worked in a range of fields. We intend to amuse the audience with a pinch of information and expertise.
We release a new edition of our podcast every 14 days. So keep your eyes open.
Subscribe and Listen on Major Platforms
The Story Behind All Fingers and Thumbs.
To be honest, there isn't a straightforward answer. It's more of a scenario from the beginning of time. All fingers and thumbs is also a podcast universe, where we gather a group of brilliant people to share knowledge and experiences. So, when you have some free time, you may listen to and learn from our ensembled heroes.
"Art is a lie that makes us realize truth." – Pablo Picasso.
Art is always unique! Due to the varied backgrounds and belief systems of people around the world, it has a subjective perception. This makes it challenging to define art or figure out how to interpret it. It leads us to infer from the past. We can always see things from a different perspective.
Therefore, we will cover the history of art briefly in this episode of All Fingers and Thumbs. The artist who is our guest, Mr. Kavya Kumar Bhatt, has given us some fascinating insights into the history of art and how numerous civilizations have benefited from it.
Kavya holds degrees in printmaking, graphic design, and fine arts. He has an elegant knack to tell stories and produce abstract art. Kavya has a unique way of presenting details about the past of many things. It has the power to inspire passion for the arts! Get a general idea of how art has changed historically by watching or listening to this episode. Keep up with Kavya on YouTube and Instagram. Follow Jainish and RiffScript on numerous platforms as well. Deven deserves special recognition for his superb videography abilities.
Listen to our podcast on various platforms like Spotify, Apple Podcast, Google Podcast, Gaana, JioSaavn, Anchor, and many more.
Find us on various platforms – Link – https://linktr.ee/riffscript
Listen to our podcast on multiple platforms for free – https://linktr.ee/allfingersandthumbs 
An inquisitive cat became an entrepreneur, attempting to carve out a niche for his solid idea in this vast and beautiful world.
For his love of randomness and abstract patterns of life, Jainish decided to pursue nothing after completing bachelors. And just like that, he ventured to the USA for earning a masters degree.
However, fate had it different for him and he was sent home. He, then, chose to embark upon a journey full of uncertainties. Jainish dreamt of creating a community to help creators, individuals, businesses, and artists. In order to fulfil the dream, he started RiffScript with two of his friends. The same dream led him to create this beautiful podcast series named All Fingers and Thumbs.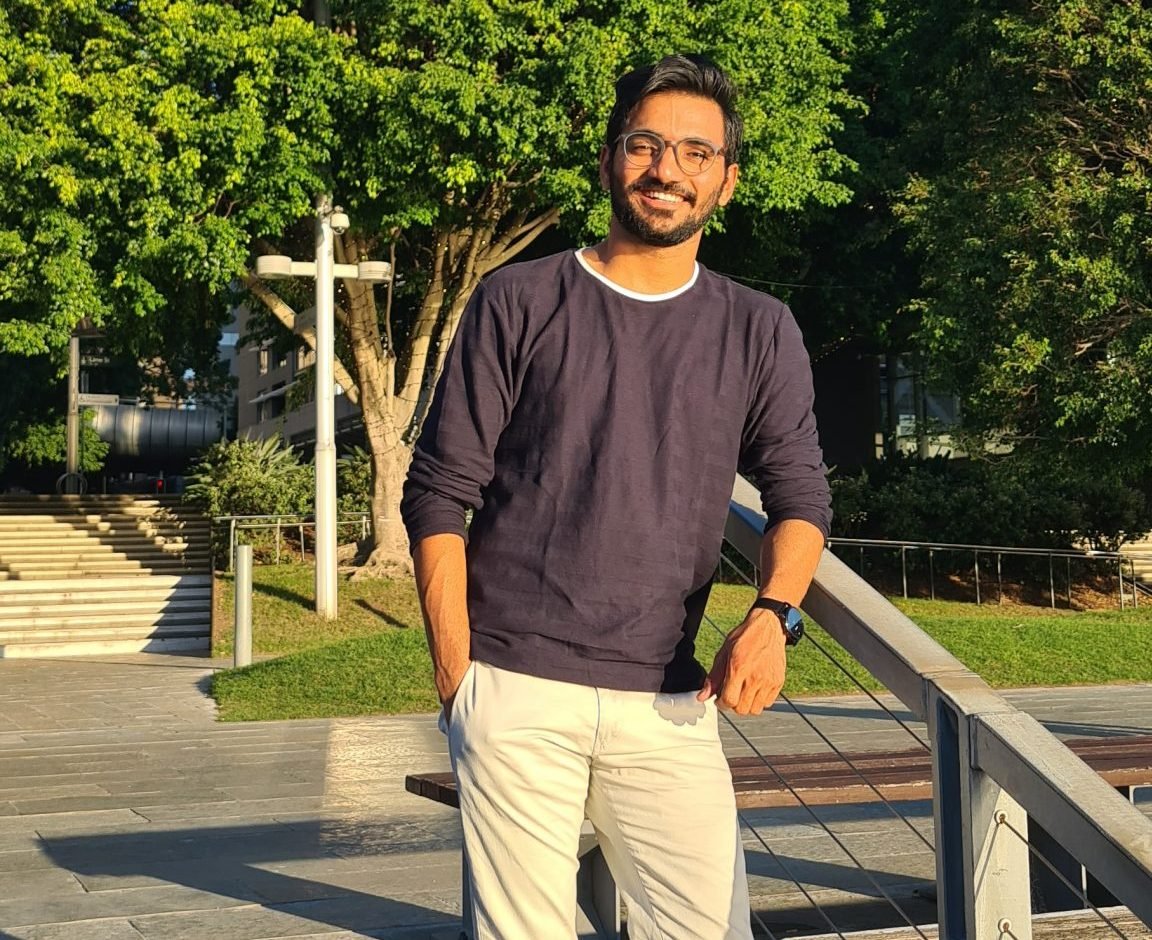 An artist trapped in the body of an engineer is what rightly represents Harshverdhan!
Harshverdhan embarked on a path to improve his marketing skills after finishing his bachelor's degree in information technology. As a result, he earned an MBA from one of Australia's top institutions.
He's an integral part of both our podcast series and RiffScript. His ability to adapt and orate makes his presence one-of-a-kind and striking. This series would not have crossed continents if it hadn't been for Harshverdhan.
Pallav is a profound and extremely intellectual creature hidden behind a simple guy with a fantastic sense of humour!
Pallav is working with a well-known American organisation. His acting abilities are matched by his technical expertise. He has a peaceful demeanour and might appear to be an introvert, yet he has an unquenchable desire to comprehend reality in its purest form.
Pallav approaches All Fingers and Thumbs with a new perspective. Our task is made easier and more enjoyable by his ability to improvise and willingness to record our podcast at unusual hours. Pallav is similar to herbs put on a pizza; pizza would not taste as good without them!
"Knowing Jainish is like knowing a ball of fire, only this fire runs on seeking knowledge. Inquisitiveness and dedication together make a recipe for growth. And Jainish has both along with the true ability to self-reflect. The genuineness is incomparable. And along the process came brainchild RiffScript and the vision it held for knowledge acquisition is truly remarkable. Having worked closely for a few years now, when I did the talk on Grief, it came as a timely requisite of circumstances that we all found ourselves in due to COVID-19. Their efforts, readiness and quick wit made it more relatable and left me reflecting on the limitlessness of human capacity to evolve. Their platform is a treasure for anyone seeking finer details of a field. I truly hope they trade farther and wider for everyone to benefit from their many endeavors."
"RiffScript is a team of dynamic people, who never limit their creativity to a specific scope/field! And so was the podcast! They ask and discuss things about different fields a commoner would hardly know/believe. Whether it is about an old building or a Chaiwala's success story, they portray the simplest things through their podcast effortlessly and interestingly. My experience as a guest was as if I had a quick catch up with old friends discussing day to day stories of the property market and building construction. Their curiosity about the field expressed through their questions was truly thought-provoking and helped me improve myself in terms of conveying concepts related to my field in the simplest ways."
"It was an incredible experience for me, as it was my first time interacting through a podcast!! Also, being an introvert, you guys made it so simple for me to open up and discuss my engineering experiences before and after!! It was also exciting to be a part of the entire 60 minutes!! It was also fantastic to see old classmates after such a long time!!!"
"First, RiffScript truly deserves more listeners for all the amazing interviews and podcasts accomplished. Second, the experience with Jainish and Harshverdhan was so unique and fun! Not once did i feel put on the spot in any way and was super happy to converse with them on the NFT space. I only hope their work continues to grow and expand with great success :)"
"Thank you for inviting me to the podcast and for giving me the opportunity to talk about entrepreneurship. Team RiffScript creates very precious podcast for people that believes "entrepreneurship is the best way to advance innovative ideas but we need those ideas not only to create material value but also to foster social progress. The importance of this initiative must be emphasized. Good job 👍 RiffScript."
"Being on the 'All Fingers and Thumbs' podcast with RiffScript to reminisce about my good old engineering days was a memorable experience. As content creators who are passionate about their work, I got an inside view of their creative process - how they come up with a theme for an episode and how they formulate questions that have real answers. Being on the podcast was an amazing opportunity and I am really glad that I got to touch on a topical subject and share my experiences. A huge thank you to the RiffScript team for all their support and I wish them the best in their future endeavours!"
"It really was an amazing experience, I was featured in a podcast recording for the first time and I'm grateful to the hosts for making me really comfortable. We almost lost track of time while discussing it. A big thank you for the opportunity and I hope that we collaborate once again someday, for an even better discussion!"
"I was invited by Jainish to be on the Riffscript podcast and it was a delightful experience! Right from the actual conversation to the editing and the release of the podcast-it was all very professional and polished! I genuinely enjoyed and learnt a lot from our conversation which ranged from poetry to culture to psychology and more, it felt very organic and I'm grateful to Jainish and Harshverdhan for making me feel comfortable and welcome on the podcast, kudos to them for the work they do! 🌟"
"It was very unique experience for me as I was never featured before in any of the podcast platform. Interestingly, I like the process of their team especially Jainish who was in continuous touch with me. First, he set up a couple of call just to understand the points we can create a content on and later, it feels just so smooth to appear in such podcast. I'm grateful to Jainish & Team for featuring me up and taking time & effort to do so. Great job, man! Keep going."
"Being a part of All Fingers and Thumbs was an amazing experience. It felt like a family podcast as we know each other very well. We all know what family brings to table, Vin Diesel (just kidding). It was a great platform to tell my stories to the people and give a little sneak peek into the engaging corporate world. Thank you RiffScript, without you it would have not been possible."
"A bunch of amazing guys having conversations with local people doing amazing things. I love the fact that it's happening in my city. (Currently, I am binge-listening to the episodes on Spotify!) I am super happy that I was a part of it. Thank you so much Riffscript! I am glad you guys had a fun time with me as well. Keep going extra strong! (They are on most of the platforms, go ahead listen/watch!)" The importance of this initiative must be emphasized. Good job 👍 RiffScript."
"My experience with RiffScript was not just about dialogue related to specific fields but it was an exchange of thoughts and perceptions of humans to their surroundings. At first, I was amazed by their approach of targetting newbie who is enthusiastic and is trying hard to approach a wider audience. I wish by their proposition more hidden talent can get the right platform to express their expertise. Best of luck to the whole team for future endeavours."
"It has been a pleasure doing the podcast with team RiffScript! They made the whole process so seamless and easy. Both Jainish and Harshverdhan were very friendly to talk to. It was the first time I did a podcast and I felt more excited and confident rather than nervous! Kudos to the team! 💯"
"Mr Jainish Soni the Man behind the success of podcast episode no. 21. I was invited by him to shoot a podcast. He did good research on Diabetes and its physiological impact. It was a great interaction with him. He made the whole podcast very interesting. The way he showed interest in the interaction is appreciable and this shows how passionate he is regarding his work. Special thanks to Deven Parikh (who was behind the camera.)"
"To be honest, I was a little nervous for my first RiffScript talk because I had never done a podcast before, even though working with Jainish was a fantastic experience. His desire for acquiring knowledge is remarkable, and the sort of set he produced was genuinely wonderful while appearing so professional. I want to hear a lot more podcasts in the future."
"I was invited by Jainish to be on the Riffscript podcast recently. I thoroughly enjoyed being there. We discussed a lot of topics, related to films and also life. The vibe was so wonderful that it felt like we were having a conversation among old friends. It is during frank conversations like these that where we can be ourselves. I will recommend to everyone to listen to other episodes on the Riffscript podcast. Thanks, again, for inviting me."